Lola, the pit bull was rescued through AMA Animal Rescue.
Lola, the pitbull was kept in an enclosed garage for eight years. There's no room to rest, no one is paying attention, and there is no treatment for veterinary issues. The pit bull's journey was not easy and she seldom was seen in the daylight. A passerby saw the dog's condition and contacted AMA Animal Rescue, located on New York. New York area, for assistance. The AMA team arrived in, they sat down with the owner and convinced them to release Lola to get better living conditions.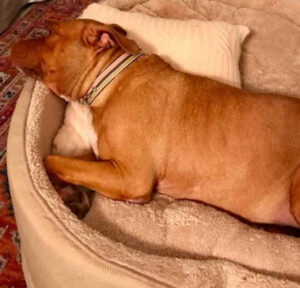 Wiggle Butt, Wiggle Butt, Wiggle Butt, Wiggle Butt, Wiggle Butt, The crew approached Lola with caution, expecting the pit bull to be fearful and hostile. Lola was unfazed by the situation. Her small tail began wagging wildly, and the crew realized she was nice and in need of attention. "We dubbed her wiggle butt," AMA volunteer Michele Walsh said. "Wagging her adorable little tail, incredibly affectionate, offering kisses, and overjoyed to meet her rescuers." AMA immediately took Lola to Animal Kind Veterinary Hospital, where she had several tumors removed. It was then transferred to foster care for a few months.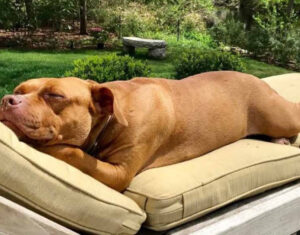 Forever home and a place to relax Lola didn't have to wait long to find her ultimate home. Charlene von Saher, a Manhattan resident, took one glance at Lola and decided to adopt her. Lola has been with von Saher for 7 weeks and has more comfortable spots to relax than she could have imagined. Lola enjoys relaxing in a variety of places, including mattresses, dog beds, couches, and patio furniture. She also enjoys the sun and going outside on a regular basis.