Mama Pickles, an adorable pit bull dog, was discovered wandering the streets alone in September last year.
When rescuers discovered her, it was evident that she required assistance. The pit bull, who was two years old at the time, was heavily pregnant and bewildered. Animal control officers soon removed her from the streets and attempted to determine her origins. They tried to contact her registered owners, only to learn that they no longer wanted her and had decided to abandon her at the shelter. This is Everything When A Rescue Pit Bull Gets Her Own Maternity Shoot
Her owners decided to completely abandon her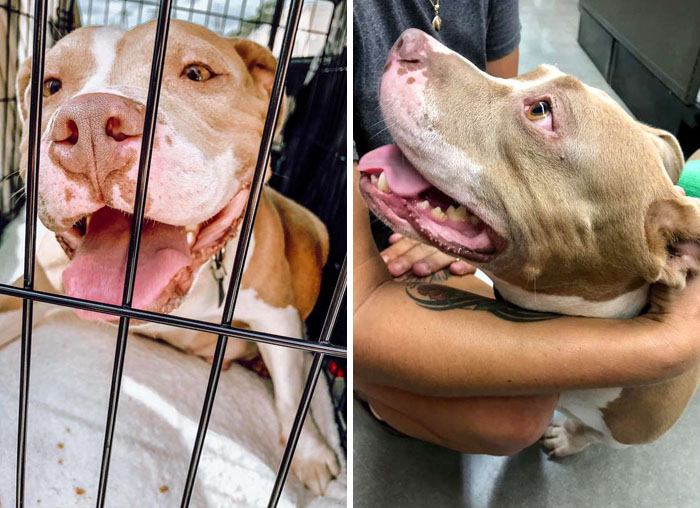 The poor pit bull was so heavily pregnant, she was in need of more specialized help than the shelter could provide, but, thankfully, she was quickly found by Pits & Giggles Rescue – a non-profit organization specializing in caring for pregnant and nursing mama dogs as well as their pups. The sweet pitty couldn't contain her excitement and nothing could prevent her from playing with her new friends. Her huge belly made moving around a little difficult, but even that couldn't stop her.
So rescuers took her in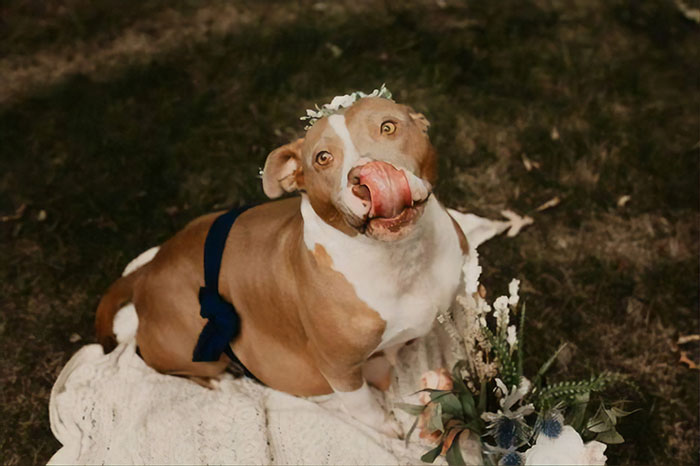 The incredible photoshoot wouldn't have been possible without Sykes, who is the photographer behind Enchanted Hills Photography and volunteers to take pictures of dogs at Pits & Giggles Rescue to help them get adopted.
"When Pits & Giggles reached out saying that they just brought in a Mama from the shelter that was the proudest, happy and caring little thing, we wanted to take photos to keep those precious moments," she told Bored Panda.
Sykes decided to give Mama Pickles a maternity photoshoot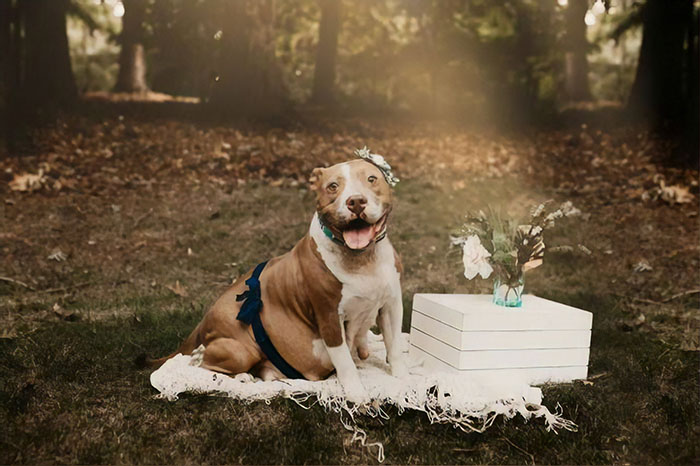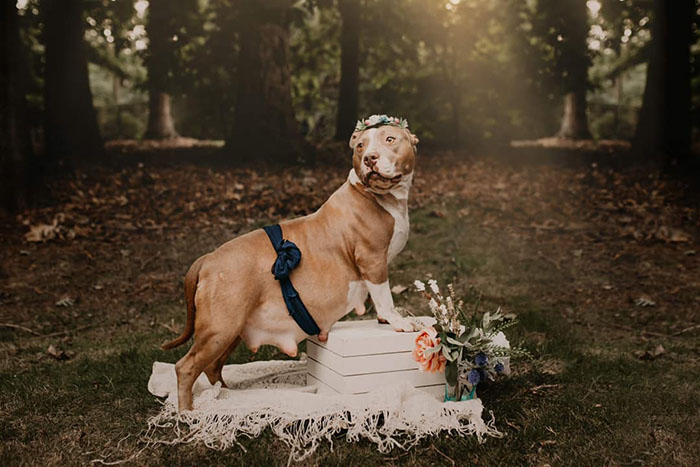 Everyone was amazed at Mama Pickle's modeling abilities, she went into full-on diva mode as soon as the camera came out and showed everyone how to work 'it'. However, her enormous belly kept getting in the way and it was hard not to laugh at the lovely pitbull's goofiness.
"The most challenging part was getting Pickles to stop licking us! She wanted pets, pats, and belly rubs. She was just loving this new thing called "love". She was so excited she could hardly sit still! Seeing Pickles sticking her tongue out, wagging her tail, and just being overall content was the most rewarding part. I could not thank the board and volunteers of Pits & Giggles enough that saved this sweet mama," she told Bored Panda
Shortly after the first photoshoot, Mama Pickles gave birth to her puppies
Not long after the maternity photoshoot, Mama Pickles gave birth to eight healthy puppies. It only seemed right to do a follow-up photoshoot of the proud new mama with her lovely newborns. It was clear, Pickles was ever so proud of her achievements while nursing over her babies. The rescuers said motherhood was second nature to her and she did an amazing job taking care of her little ones.
And then did another photoshoot with them as well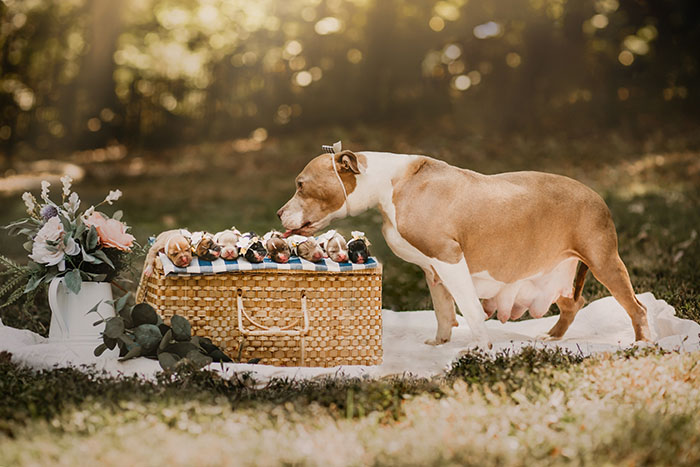 Mama Pickles and her babies have all since found their loving forever homes and we couldn't be any happier for them all!
Please SHARE this story with your friends and family.